Back to Portfolio
Improving Access to Quality Research in West Virginia Through a New Website for WVCBP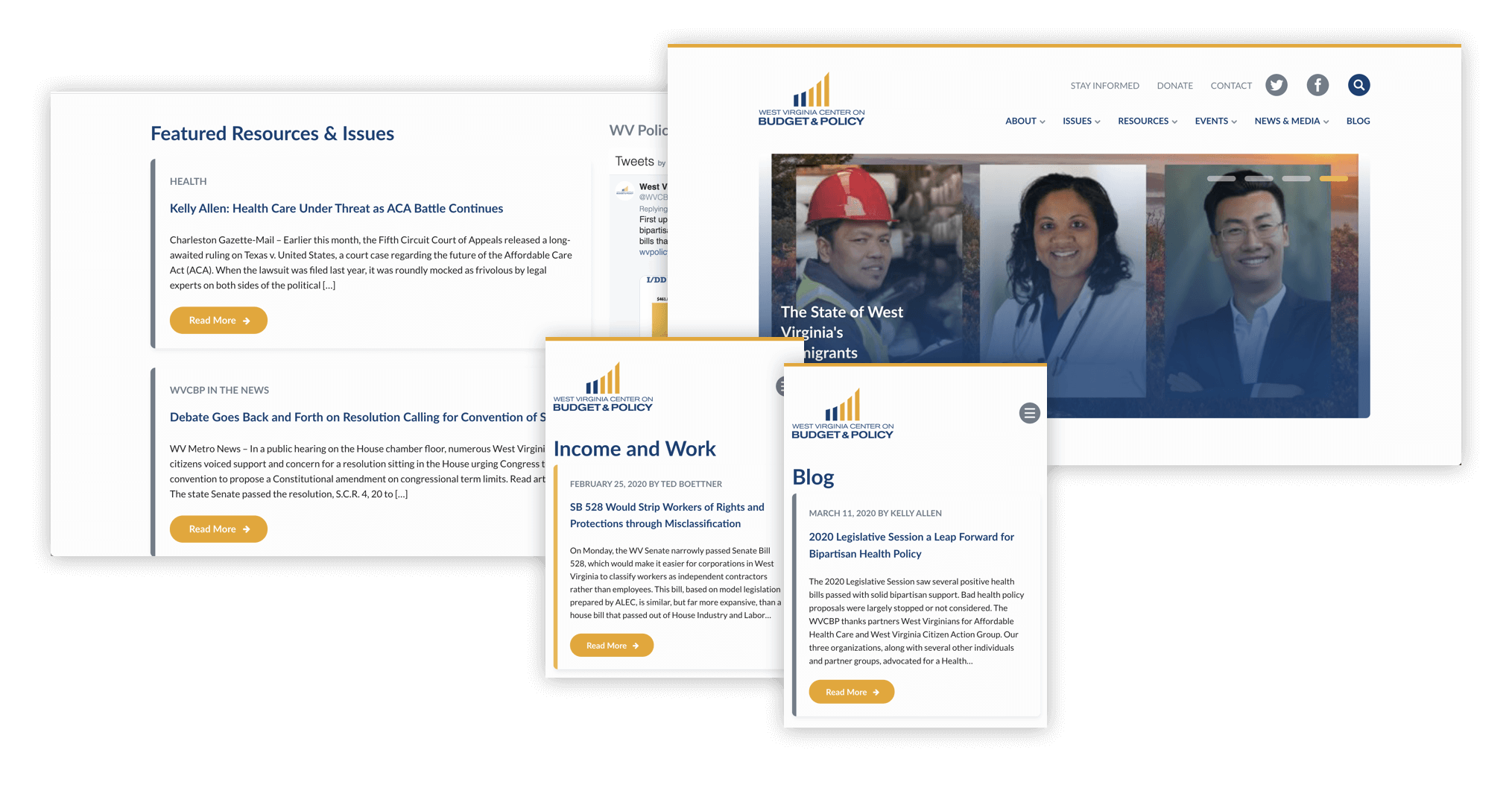 First Glance
The West Virginia Center on Budget and Policy is a nonpartisan, nonprofit policy research organization. Their mission is to use research and analysis to advance the well-being of West Virginia's communities and promote and support the essential role of government in improving the quality of life in the state.
Unfortunately, their old website failed to help further their mission as it was slow, hard to navigate, and unorganized. Our team understood their needs and completely transformed their website into a fast, user-friendly research portal.
The Challenge
This wasn't just any website development and design project—it was a gargantuan data project. WV Policy and Budget invested decades into nearly ten thousand pieces of content spanning reports on tax proposals to fact sheets on healthcare. Their website failed to unsurface this great work, and we set out to fix that.
We identified several key challenges to overcome in the new website. The content wasn't properly categorized, the search function provided inaccurate results, the site loaded slowly, and the design felt outdated. Whew! We certainly had our work cut out for us, but we were ready and excited to tackle it head-on.
Solution
The first quarter of this project involved no code or design. We simply dove into all the content they had been creating for years – reports and briefs, videos, infographics, and similar posts. We used a combination of custom scripting and specialized manual identification to refine and recategorize every single piece of content.
Once we were sure we understood the large amount of content – the heart and soul of their website – we focused on the design of the website. We built a completely custom Wordpress theme specifically for their needs so that they could put all of that content front and center, making it accessible to all. We revamped the search functionality and drastically minimized the load time so that users could easily find what they're looking for, and fast.
The theme included custom features that allowed the Center to feature content pieces in multiple places across the website. Furthermore, the new, updated design reflected the Center's reputation as an organization – clean and professional.
The Outcome
After months of hard work, we designed, developed, and installed a custom Wordpress theme for the Center that serves all of its visitors at a level the Center can be proud of.
The website today hosts over ten thousand visitors per month and serves as an easy source for all things budget and policy in West Virginia. Load times have stayed snappy, and our training has enabled the Center's staff to make consistent updates to the content presented on the website.
We're thrilled with the outcome of this project, and we invite you to visit WV Policy and Budget at https://wvpolicy.org.