Back to Portfolio
West Virginia Child Advocacy Network Increase Donations by 383% with a Custom Donation Portal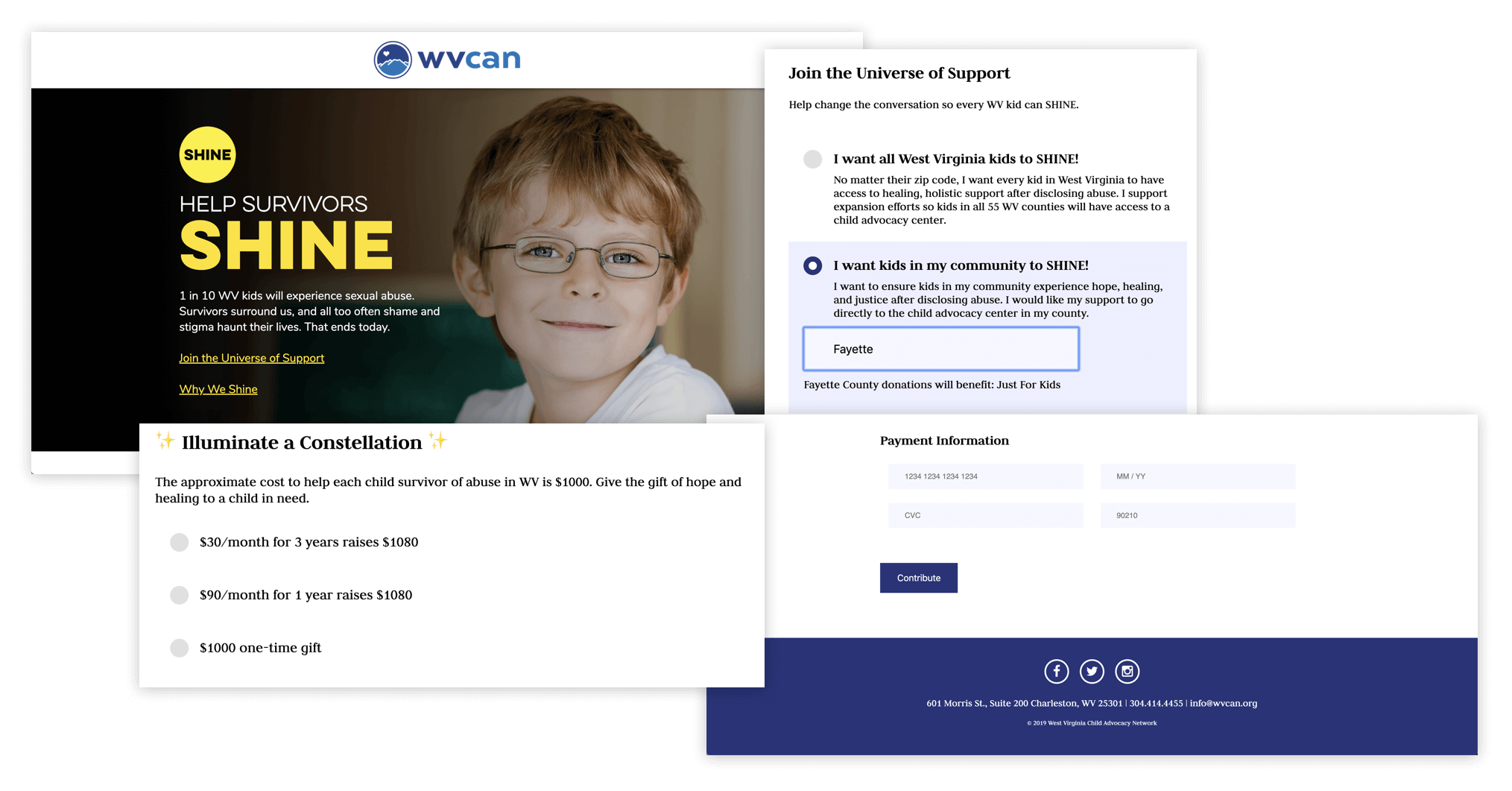 First Glance
The West Virginia Child Advocacy Network (WVCAN) is a non-profit organization that works to end child abuse across the state through its network of 21 child advocacy centers (CAC). In the fiscal year of 2017-2018, these centers helped almost 4,500 children.
Each CAC connects professionals and communities to the resources necessary to ensure children receive safe and high-quality care. Available services range from providing support with criminal proceedings to ensuring victims get access to vital medical attention.
Understanding the importance of WVCAN's mission and goals, Oakwood Digital built a simple and highly effective solution to unite the CACs in a new way. We transformed a broken donation system into a cohesive and powerful machine.
"The great thing about working with Oakwood Digital is that if we can dream it, they can make it happen. It was really neat to see their creativity and capacity to implement functionalities for a non-profit while getting the most out of a given budget."
The Challenge
Creating and supporting robust child advocacy programs require a steady stream of financial resources. WVCAN desperately needed an efficient way to collect donations from their supporters, both for their organization and the 21 local centers.
In April of 2019, WVCAN launched a storytelling and fundraising campaign throughout the state of West Virginia (led by our friends at 84Agency). As part of this campaign, they needed a place where interested supporters could easily donate.
Each CAC had been implementing a different method of accepting donations (e.g. PayPal and checks), which made it difficult for them to encourage, collect, and track these donations from interested supporters.
Solution
Oakwood Digital built a custom portal that allows supporters to securely route donations to the desired CAC and make recurring donations up to 3 years in advance. Relevant information is entered into their Salesforce account automatically, allowing WVCAN to track donations for each local center with ease.
The simplicity of the donation portal's user interface makes it a uniquely powerful tool. With this new centralized system, donations are now sent directly into the bank accounts of each CAC, information is logged in the Salesforce CRM and thank you emails are automatically generated and sent to every donor.
The Outcome
The results were incredible! The launch of their custom donation portal, used in concert with 84 Agency's social media campaign, helped WVCAN mobilize a 383% increase in the number of individual donations.
Not only was WVCAN was able to save significant amounts of time and money for its major fundraising campaign in 2019, but the organization will continue to do so for the years to come.
"Being able to work with a brilliant team that can tailor-make technology solutions to help meet (and exceed!) our goals has been a real gift."
In Closing
It was an honor and a pleasure for our team to work with the West Virginia Child Advocacy Network.
WVCAN already had many things on their plate. They didn't need the stress of worrying about a fragmented, poorly organized donation system. By leaning on Oakwood Digital's technical expertise, WVCAN was able to increase the financial support they needed to power their programs and services. As a result, they were able to focus on what they do best: providing support and healing to the children of West Virginia.