Back to Portfolio
Empowering Citizens to Advocate for Causes They Believe in With Just a Few Clicks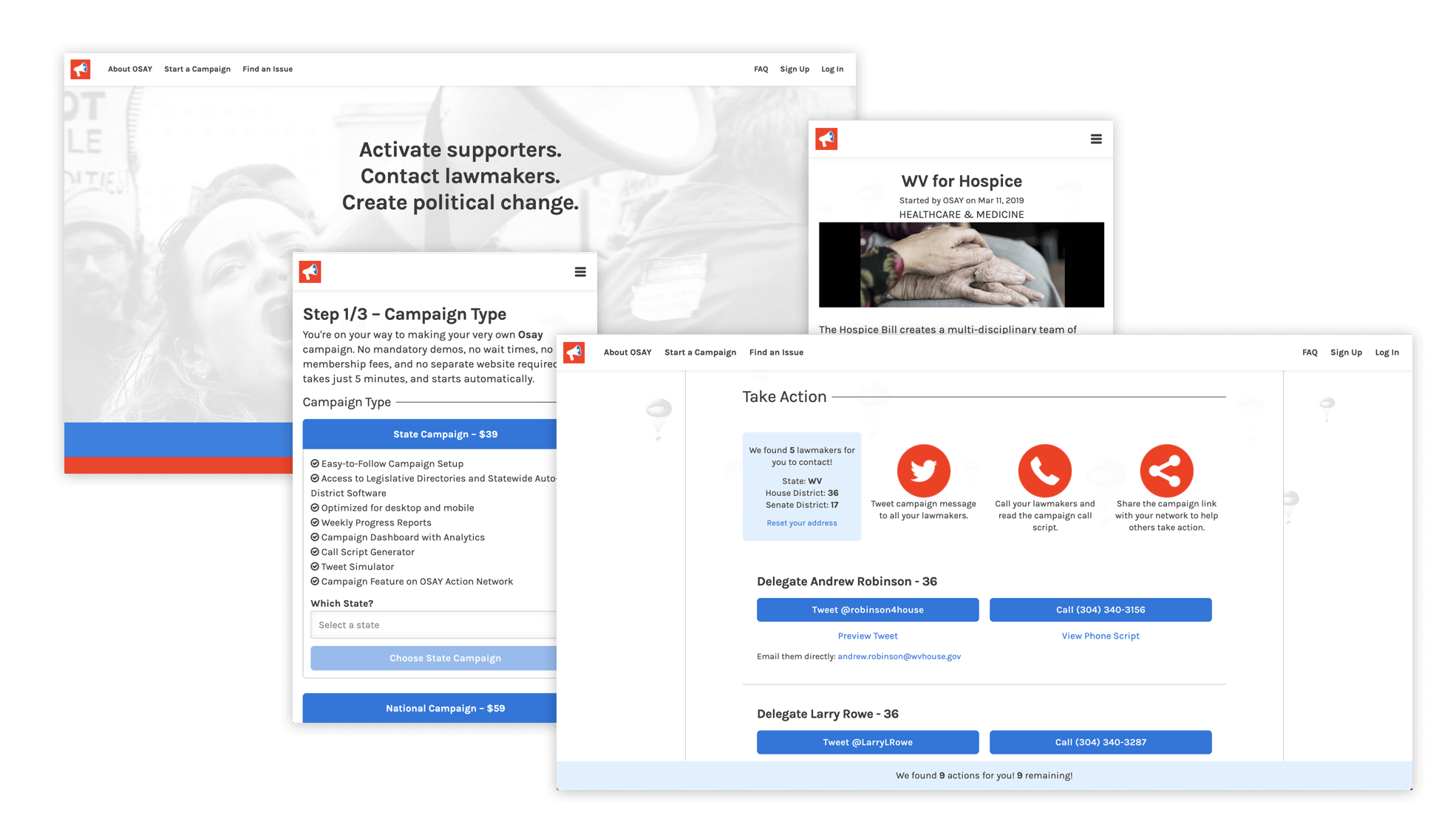 First Glance
In 2016, our friends at 84 Agency had a client that was fighting against House Bill #4012, officially known as the Religious Freedom Restoration Act. To many people, however, it was the "right to discriminate" act.
84 Agency was encouraging grassroots digital advocacy, but mobilizing people to fight for a specific cause involved a lot of delegate contact spreadsheets and scattered communications.
Oakwood Digital figured out a way to simplify the process so that ordinary citizens could easily connect with their lawmakers and fight for what they believe in. We developed a cause-centered advocacy platform that let citizens contact their local representatives in just a few clicks.
The Challenge
People want to advocate. The problem is that contacting local state lawmakers is a pain! Finding elected officials' contact involved locating your district, then searching through confusing spreadsheets and looking up lawmakers' individual websites or Facebook pages. It's a slow, multi-step process that discouraged everyday citizens from getting involved.
We realized that there must be a way to streamline this process and create an easy-to-access tool to facilitate public advocacy online.
"Oakwood Digital's in-depth technical knowledge coupled with their can-do attitude allowed them to create a quick and easy way for people to reach out to senators and delegates in their district."
Solution
We asked ourselves: How can we automate a convoluted process so that people from all different backgrounds could use it? We collaborated with the folks at 84 Agency to build a platform called OSAY – giving a simple way for West Virginians to locally advocate for issues that mattered to them.
Not only does this online portal allow advocates to quickly tweet the same message to delegates and senators in their district, but they can also create their own campaign and encourage others to spread the word. It's all about sharing powerful, unified messaging to the right decision-makers and influencers.
The Outcome
Quickly, in tandem with the 84Agency team, we built OSAY, a few-click solution that enabled West Virginians to advocate quickly. We turned clicktivists into engaged advocates and encouraged real advocacy – direct to lawmakers. In the 2018 WV session, just 60 days long, 1500 people took action on issues through the platform.
In 2019, organizers used OSAY to encourage the Governor of West Virginia to sign Senate Bill 537, otherwise known as The Hospice Bill, which would create a multi-disciplinary team of health care providers and community representatives to gather data and input to update certificate of need standards for Hospice care in WV.
Within a span of a week, the campaign had encouraged supporters to take hundreds of actions.
We're so fortunate to be able to combine our passions for creating exceptional web technology and social activism. Our goal is to continue utilizing our skills and leverage the Internet to fight the good fight.